This holiday season, give the gift of Mary Poppins!

From the moment Mary Poppins arrives at Number Seventeen Cherry-Tree Lane, everyday life at the Banks house is forever changed.
Books
Mary Poppins
It all starts when Mary Poppins is blown by the east wind onto the doorstep of the Banks house. She becomes a
most
unusual nanny to Jane, Michael, and the twins. Who else but Mary Poppins can slide up banisters, pull an entire armchair out of an empty carpetbag, and make a dose of medicine taste like delicious lime-juice cordial? A day with Mary Poppins is a day of magic and make-believe come to life!
Hardcover
Paperback
E-Book
Mary Poppins Comes Back
Pulled down from the clouds at the end of a kite string, Mary Poppins is back. In Mary's care, the Banks children meet the King of the Castle and the Dirty Rascal, visit the upside-down world of Mr. Turvy and his bride, Miss Topsy, and spend a breathless afternoon above the park, dangling from a clutch of balloons. Surprises are sure to pop up when Mary Poppins is around!
Hardcover
Paperback
E-Book
Mary Poppins Opens the Door
Mary Poppins reappears just in time! According to her tape measure, Jane and Michael have grown "Worse and Worse" since she went away. But the children won't have time to be naughty with all that Mary has planned for them. A visit to Mr. Twigley's music box-filled attic, an encounter with the Marble Boy, and a ride on Miss Calico's enchanted candy canes are all part of an average day out with everyone's favorite nanny.
Hardcover
Paperback
E-Book
Mary Poppins in the Park
Only the incomparable Mary Poppins can lead the Banks children on one marvelous adventure after another. Together they meet the Goosegirl and the Swineherd, argue with talking cats on a distant planet, make the acquaintance of the folks who live under dandelions, and celebrate a birthday by dancing with their own shadows. And that's just for starters!
Hardcover
Paperback
E-Book
Mary Poppins hardcover boxed set
Four delightful tales of Mary Poppins, together in a handsome boxed set.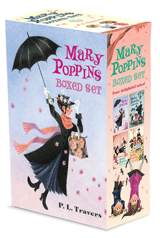 Paperback
Mary Poppins paperback boxed set
Three delightful tales of Mary Poppins, together in a handsome boxed set.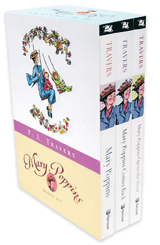 Paperback
Other Books
Mary Poppins from A to Z
Now in full color, this illustrated story book features 26 vignettes--one for each letter of the alphabet--starring Mary Poppins and other characters from the Mary Poppins novels.
| | |
| --- | --- |
| | |
| Hardcover | E-Book |
Mary Poppins in the Kitchen
Get a unique glimpse at the famous Poppins cast as the spit-spot English nanny and the Banks children take over the kitchen for a week. With the help of familiar visitors like the Bird Woman, Admiral Boom, and Mr. and Mrs. Turvy, Mary Poppins teaches her irrepressible young charges the basics of cooking, from A to Z. And young readers can re-create the week's menus by following the thirty different recipes. Kitchen adventures were never so much fun!
In full color for the first time, this enchanting new edition will delight both old and new fans of the inimitable Mary Poppins.
| | |
| --- | --- |
| | |
| Hardcover | E-Book |